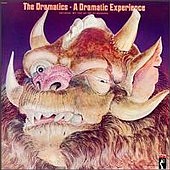 The Dramatics - A Dramatic Experience (1973)
I simply adore black vocal groups from the 70's, and The Dramatics must surely be my favourites of them all, if only because they were the first ones I discovered (I guess only Blue Magic might be superior). This album stems from their early 70's stint at Stax-Volt, and is a typical artifact from that era, with grittily funky mid-tempo work-outs interspered with luscious ballads, beautifully arranged and with their wonderful voices embellishing every track. The killer songs here are the ballads - the serene, absolute suss of Fell For You, the effortless charm and wistfulness of Beautiful People, a song to fall in love by - but on top of all lays the masterly, perfect 3:29 minutes of mid-tempo scorcher Hey You! Get Off My Mountain, one of the finest songs I have ever heard in all my life, with some of the most inventive vocal interplay EVER and strings to die for. But there really isn't a duff track in sight, from the gourgeous vocal arrangement of Now You Got Me Loving You to the closing track, the rousing funky mayhem of Stand Up Clap Your Hands, complete with 60's soul-style shouting à la Geno Washington and rustling Hammond organ. Sublime!
The Dramatics went from strength to strength, at least artistically if not commercially, when they left Stax and continued to create a series of wonderfully arranged and splendidly sang ballads and more uptempo material. It is the sheer weight and inventiveness of the arrangements, as well as the faultless quality of the singing that made The Dramatics the best of the heap, the ones that had the best material (I must at least point out the other-wordly shuffling brilliantness of 1971's Whatcha See Is Whatcha Get, their definite version of 'standard' Me & Mrs. Jones, recorded live in 1975, the scintillatingly sweet uplifting melody of I Get Carried Away from 1976, the totally brilliant undulating arrangement on 1978's tearful Stop Your Weeping... too many to mention). But I love all those groups, from the Manhattans to the Delfonics, from the Dells to the Stylistics, from the Originals to Blue Magic, etc etc etc. In short, 70's soul balladry is my favourite kind of music, full stop. It is just so hard to find the original albums, especially here in Italy, I found this at a record fair (on CD), but I usually have to content myself with greatest hits packages (when I find even those), which is a shame, considering the consistent quality of all the tracks on offer on this, an album that isn't even considered the Dramatics' best effort by critics. As for the superb Manhattans, their albums have never been released on CD that I know of, they aren't available anywhere... Doh!, as they say.
Oh well. The Dramatics soothe my soul. My favourite black vocal group ever? Nay, my favourite group ever, tout court. Respect.