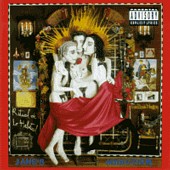 Jane's Addiction - Ritual De Lo Habitual (1990)
"Señores y señoras..."... thus starts the amazing trip that is Ritual De Lo Habitual. Simply, an exceptional album. The best crossover album of all time, and so much more.
Side 1 is a vivid white-boy funk rollercoaster ride, while side 2 contains some of the most beautiful freeform rock music ever recorded.
The single and shoplifters' anthem Been Caught Stealing, with its dog sounds and crazy frazzled syncopated guitar, earned them an unlikely hit when it came out. But it's the most experimental stuff that lingers on. The genial Obvious, for instance, with its rollicking fade-in intro, amazing spaced out guitar, weird echoes and rousing vocals. And then torrential, thundersome 'tour-de-force' Three Days, possibly the stand-out track of a stand-out selection. Absolutely 10:46 minutes of genius (but what the hell is Perry Farrell on about? Erotic Jesus lies with his Marys, loves his Marys, etc...) - that then rolls on into the beautiful guitar strum at the beginning of Then She Did..., another magnificent song. Side 2 is just amazing.
At the end, closing track Classic Girl is wonderfully conceived, with its' rhythm shift and inspired, ecstatic guitar playing by the very talented Dave Navarro. A monumental ending for a monumental achievement of an album. And a truly great love song in a conventional sense too. Hats off to these guys.
But really, it's all awesome. The punk-funk blasts of the first side for when you feel energetic, and side 2's moody/freaked out suite for when you feel more dreamy.
An overwhelming experience of an album, a true work of art. Unforgettable.