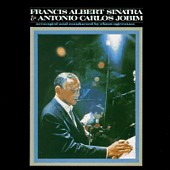 Francis Albert Sinatra & Antonio Carlos Jobim (1967)
Jobim is one of the 20th century musical geniuses, no question. Sinatra is the greatest singer EVER. This record is accordingly, a masterpiece. Clocking in at a paltry 28 minutes, it is so short yet so sweet. Totally perfect. An album to make you swoon. Magnificent, gorgeous arrangements of vintage Jobim compositions, sung by Frank on top form - what more could anyone need. Utterly sublime.
1967 was a great year for popular music, maybe the single best one in rock history, with the release of albums such as The Doors, Velvet Underground & Nico, Sgt. Pepper, Goodbye And Hello, Are You Experienced, Forever Changes, Younger Than Yesterday, Surrealistic Pillow, The Piper At The Gates Of Dawn, etc... but this is the album for me. This is the 60's I like, not the druggy rock 60's, which have dated so badly. Whereas this sounds as fresh and lovely as when it was recorded, maybe even more so. I just love these 60's, the 60's of lounge music, Martinis and white go-go boots. The 60's of kitsch TV, pink cocktail dresses and lovely make-up. The early sixties, I guess, before LSD and rock changed everything. Not necessarily for the better, if you look at the world now.